The best recipe for quick cucumber kimchi, an evening with the Korean in Wedding and the great photographer Robert Bartholot #kimchilove
"A About Mel, that's in Wedding!" My old buddy Kupfi seems to have something to point out to me about something very indecent or abstruse. We are writing about the Facebook messenger back and forth. I have a few days to do in Berlin and no (as usual - I really do not have it) long-planned evening arrangements. So, spontaneously and luckily, I'll go to Kupfi and suggest a date for the evening.
Of course, he's already taken and has plans, but I can - how great! - just come. With his husband Harm and a friend they want to try a Korean. And that's just in "this wedding". Count me in! As a citizen of Hamburg, I am not so deeply involved in the Hippnes hierarchy levels of the Berlin districts. Wedding, Mitte, Kreuzberg ... I really do not care. I'm just looking forward to seeing one of my oldest buddies and his great husband again. And what can go wrong with Korean food? Eben.
A few hours later (and exciting experiences with Berlin taxi drivers) we'll be sitting in Sam Yuk Gu. The whole thing turns out to be a snack bar right on a busy main street. The owners have made an effort and want to make it nice: Colorful lanterns illuminate the entrance and bring an incredibly likeable light swab in the otherwise surprisingly dark street. Inside, it's authentically-useful, decorated in do-it-yourself style - a few wooden slats to decorate the walls, a few tables and chairs scattered around the room, a lit fridge with Asian drinks, and a colorful highlight, a blue table and stools metal drums. But the most important thing is that it smells fantastic!
The three guys are already there and even before I can turn to the greeting and hugs, my gaze falls on the man at the next table. He is frying pensive small, wonderfully smelling pieces of meat on a hot plate. It hisses and smells ... I have to tear myself and my gaze with effort (and pull together, not directly to steal the bowl from his hand). Focus on the boys and our own table.
I am delighted that the friend of Kupfi and Harm turns out to be the photographer Robert Bartholot. I have loved and liked his work on Facebook many times. And now not only does this guy make fantastic photos, he's also incredibly nice and entertaining, sitting opposite me at the Koreans.Visit him on his website. Better yet, bay him!
We order our food and order a big white bottle with a Korean drink - just because it looks so nice in this lit fridge (and there's no white wine). The content - fermented rice wine (?!) - honestly, will not be my new star in the beverage heaven. But the food, which is set up a little later, is wonderful. Above all, the many obligatory small bowls with Korean side dishes are a dream.
We try all of it and puzzle what we just Spicy, Sharp, Acid, Salty eat. In one thing we are all agreed: the cucumber kimchi is the absolute hammer. We all know Kimchi from white cabbage. But kimchi from cucumbers? We can not get enough and order. Slightly salty, a bit spicy, spicy - WOW! I'm almost ready to swear I want to feed only on cucumber kimchi in the future. It's a wonderful evening with stimulating conversation over tasty food and I am very happy to have him with three great people in Wedding.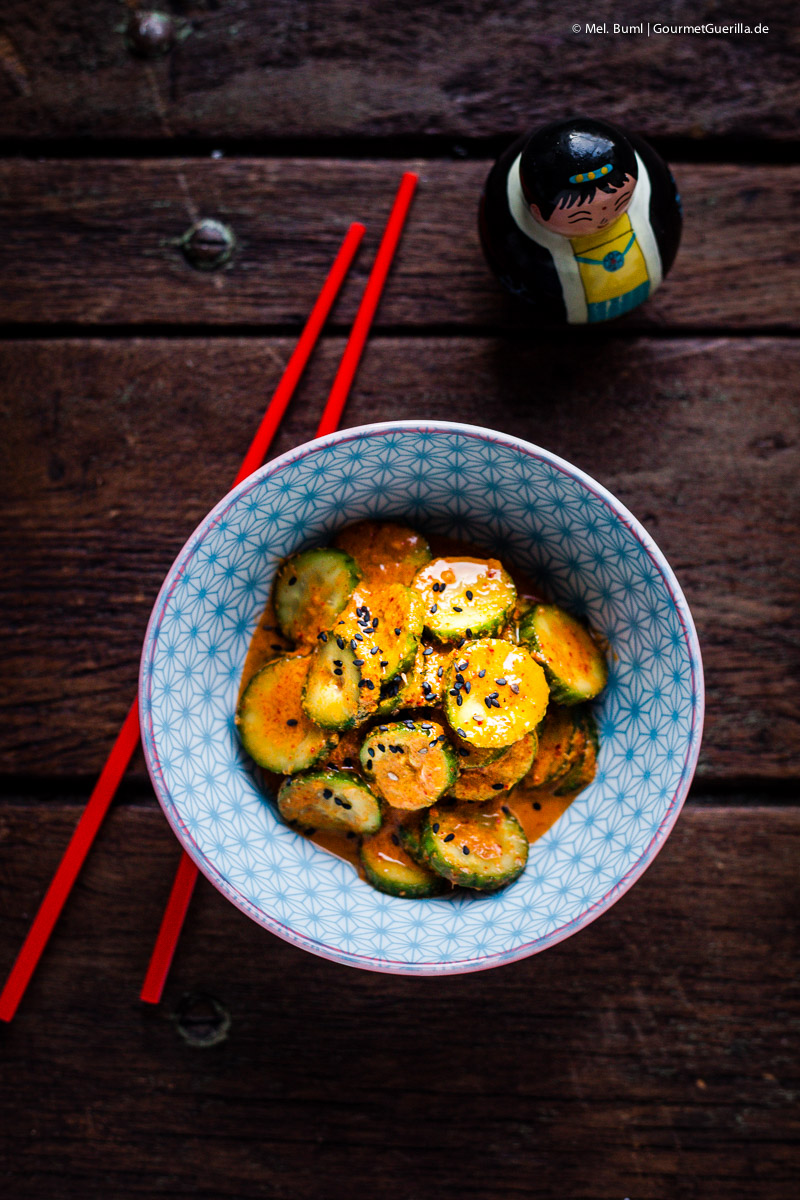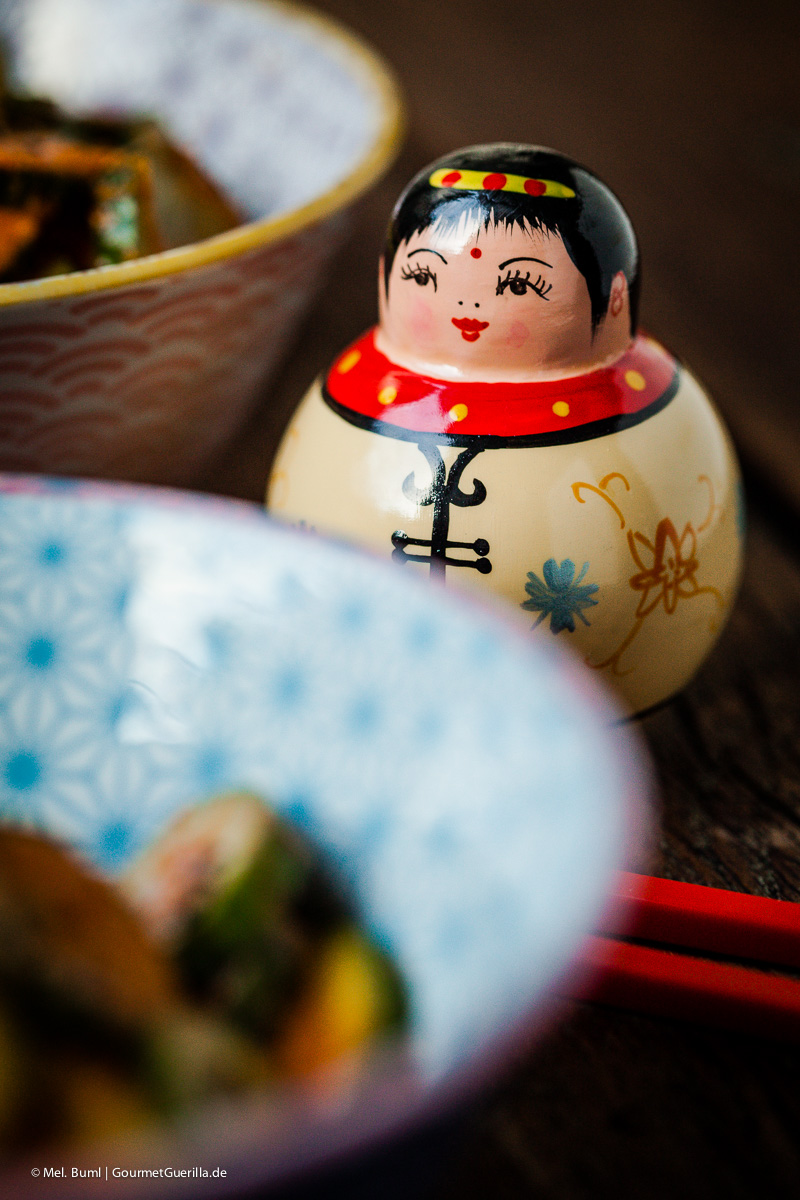 Even after our visit to the restaurant, the topic of cucumber kimchi did not let us go that fast. Days later, news of recipes went back and forth to kimchi. Presumably, everyone has their favorite mixture, takes a little more garlic or a little less fish sauce. Harm then landed a real recipe hit. The whole thing comes close to the beloved restaurant-cucumber-kimchi.
It's definitely important to use Korean pepper-chili-flakes. Although they have a certain sharpness, but also bring sweetness and a lot of flavor. Please do not try all that chilli powder from the local spice rack - the result would probably be absolutely unessievable.
I'm definitely in love with this cucumber kimchi à la harm: it's super fast made without fermentation , lingers in the fridge for a few days and goes with amazingly many dishes. And if you should break all supply chains, with kimchi and some rice you always have a great meal on the table. Promised!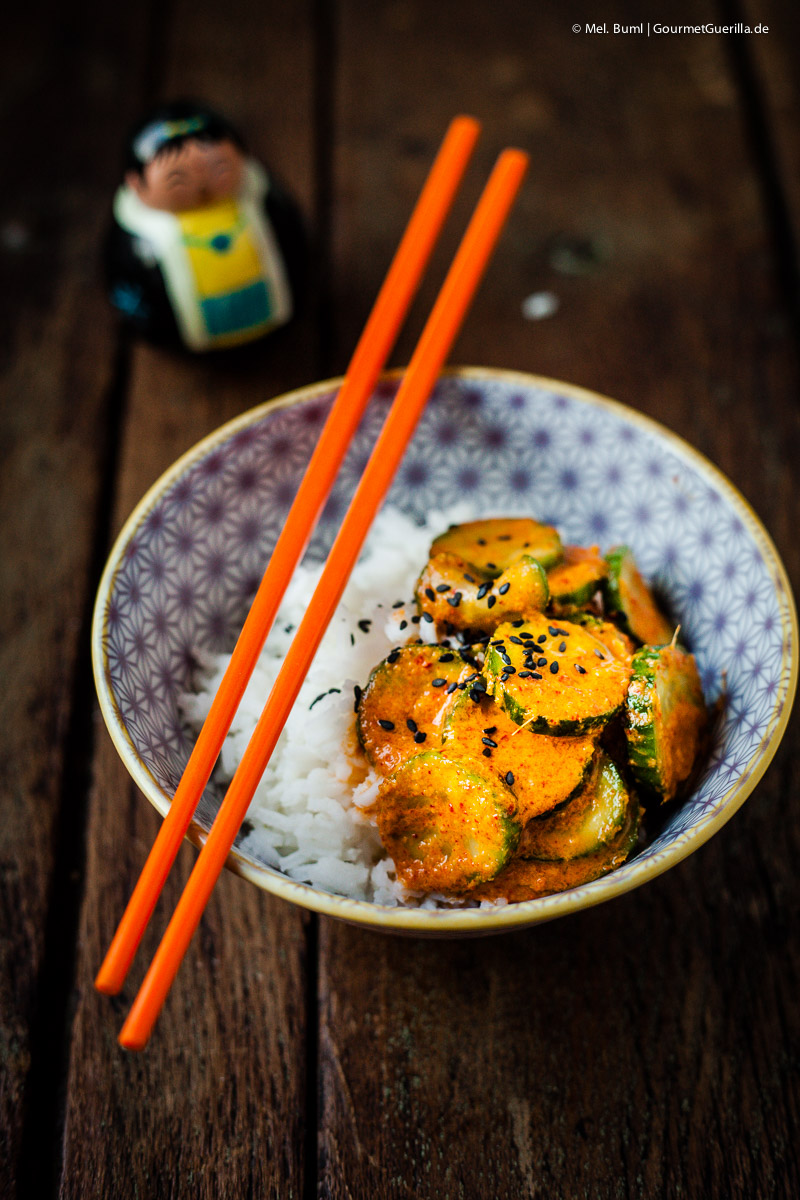 And here comes the recipe for quick korean cucumber kimchi
Ingredients for 1 small bowl:
4 small cucumbers
(alternatively a thin snake cucumber)
1 teaspoon salt and 2-3 cloves of garlic, peeled
4 spring onions, minced
1 piece of ginger with a large prune
6 tablespoons of rice vinegar * or 5 tablespoons white wine vinegar
1.5 tablespoons of Korean chilli flakes (Gochugaru) *
4 tablespoons sugar
1 tsp fish sauce *
2 tsp dark sesame oil *
Optional:
1 tbsp korean chili paste (gochujang) for the really hard-boiled chili friends
sesame white or black
And so it goes:
The cucumbers in 0.5 cm thick slices to cut. (Alternatively halve the snake cucumber, scrape out the seeds and the soft inside with a spoon and then slice the cucumber).
Mix the cucumber slices in a bowl with the salt and leave for 30 minutes.Sprinkle with white or black sesame seeds before serving.
The cucumber kimchi tastes great with roast meats, grilled cheese sandwiches, savory steaks or - quite classically - simply basmati rice.
* These starred ingredients can be found in any Asia supermarket, or ordered through amazon's affiliate program links. Of course, that does not cost you a cent extra. And I get a few cents from Amazon as support for the blog work. Thank you for making this possible!