The best recipe for pumpkin soup à la Dagmar with orange, curry and a hint of chili
S o - Let's not fool ourselves: We have mid-September and in Hamburg, the pumpkin soup phase has begun. For about three days in the morning I have to make sure again that only a window is open - otherwise old building ... door scores ... train ... foot cold ... bähhh. And that is the unmistakable sign that something has changed significantly out there: The cold in the wind is there. Something else also changes automatically inside: the urgent need for warm soups, cuddly blankets and long series binge afternoons on the couch pops up. (Recently someone on facebook wrote that she was watching the old episodes of SATC - great idea - I put that on my list as a precautionary measure)
Now it's 10:39 and there's a seething sound on my hearth Pumpkin soup. More specifically pumpkin soup à la Dagmar. It was the first pumpkin soup in my life and was served by my friend Dagmar at a party in a Barmbek kitchen 20 years ago (do not say anything now, please, thank you.). At that time, like three other children, they had less and very different hairstyles. In addition, the pumpkin soup inflation had not yet begun and the whole thing was a highly exotic scoop. And so tasty that it was simply the pumpkin soup standard that was set in my life. If I remember correctly, there was no written record. Dagmar has roughly listed the ingredients and we have all boiled at home.
Time to capture the pumpkin soup à la Dagmar forever. Because she is simple, right, really good and totally heart warming with autumn feelings. It is sweet, salty, spicy, wonderfully creamy, simple and inexpensive. And it can be varied over and over again - a little more sweetness, a little more chili puff, croutons or fried bacon as a topping or a date-bacon skewer as a supplement ... does what you want. Oh yes, vegan, of course, goes well.
Well - you are now well prepared for the fall feeling, no. And if you are looking for even more autumnal soup love will find here, here, here or here. And what do you do against cold feet?
Have it tasty!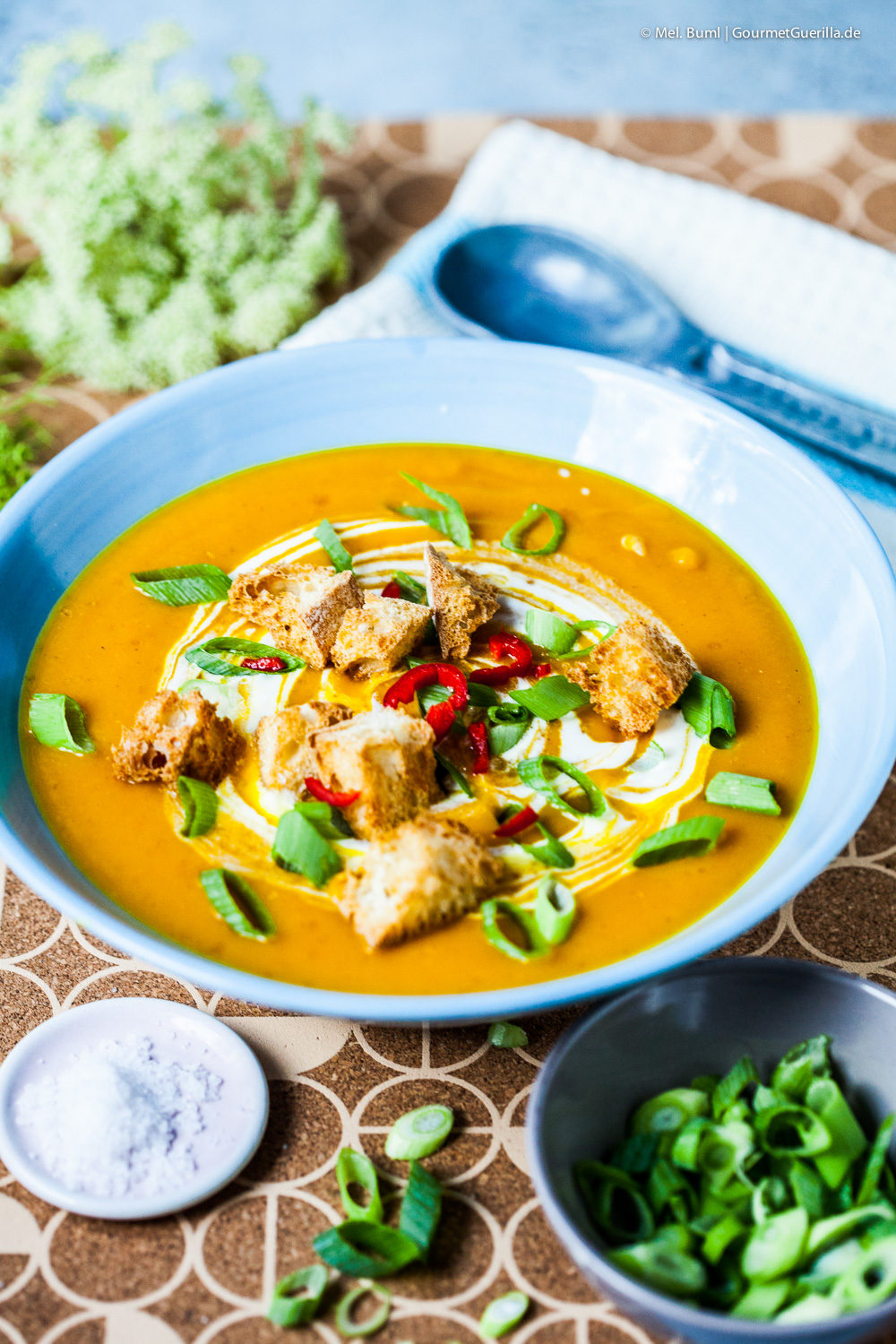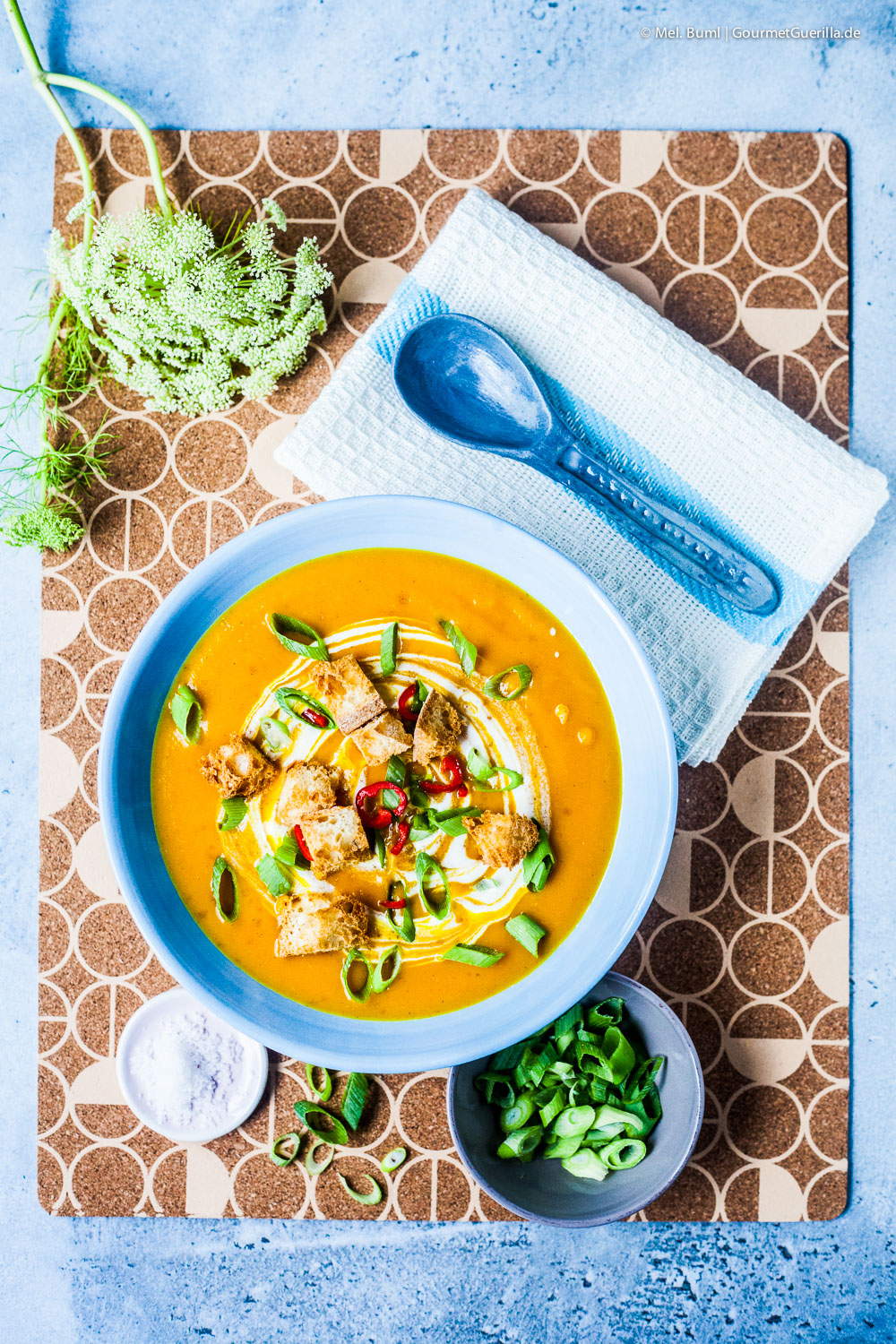 And here comes the recipe for the best pumpkin soup à la Dagmar with orange, curry and a hint of chili
=" col ">
Ingredients for 4 people:
2 medium onions and 2 garlic cloves
1 good tablespoons butter (or a vegan alternative)
1 hokkaido pumpkin, approx. 1 kg
4 carrots, medium sized
4 potatoes, medium sized
1.5 liter strong chicken or vegetable broth
1-2 teaspoons cinnamon - 1-2 tablespoons curry powder - 2 pinch of chilli powder (or more) - 0.4 liters of orange juice without added sugar
3 tablespoons maple syrup (or H onig, but that was out for me)
salt & pepper
And this is how it works:
Peel and chop the onions and garlic.
Divide the pumpkin, scrap the hay and seeds with a spoon and discard. Dice the pumpkin. (Very great: Hokkaido has a soft, edible shell and does not have to be peeled!)
Peel carrots and potatoes and cut into pieces.
Heat the butter in a large saucepan and heat the butter Sweat the onion in a glassy sauce. Add the garlic and fry for 1 minute. Then douse the curry powder in the pan and fry for 20 seconds with stirring.
Then add the stock and half of the orange juice and add the pumpkin, carrots, potatoes, cinnamon, curry and chilli. ApproximatelySeason with plenty of salt and a pinch of pepper and leave to simmer for 5-10 minutes over low heat.
Finally, season to taste again and add some honey, cinnamon, curry or salt and pepper to your own liking.
Pour into soup bowls and serve to taste with toppings. I've taken a pinch of sour cream, chopped spring onions, and homemade croutons from the airfryer.
Tips:
The ingredients do not have to be weighed in the right amount. If the soup is too thick in the end, simply dilute with a sip of water or broth until the consistency is right.
If you like, you can make various toppings and/or creme fraiche or a herbal alternative as a swirl give to the soup. but they also tastes pure just great!
The soup tastes pulled on the 2nd day maybe even a bit better.
stirring frequently When reheating, so they do not burn.
The pumpkin soup keeps in the refrigerator for three days, but can also be prima frozen in portions.